ET with a View at Brooklyn Bridge Park on July 5th and More…
June 26, 2012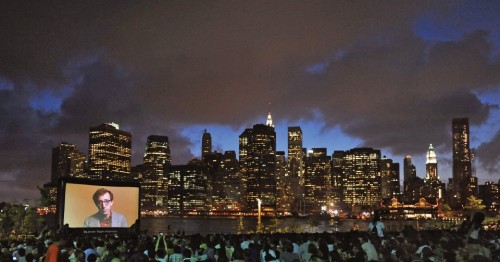 I am definitely going to try to catch one or  more of the movies at Brooklyn Bridge Park on Thursday nights this summer. Starting July 5th, they've got a cool line-up of films at Pier 1 Harbor View Lawn for the 13th season of the Brooklyn Bridge Park movie series. Music at 6:00pm, movies at sunset.
DJs from Brooklyn Radio kick off the evening, shorts curated by BAMcinématek follow, and bike valet provided by Transportation Alternatives will be available all evening.
To maintain their luscious and green lawns, chairs are not permitted on the park lawns.
Thursday, July 5
Movie: E.T.: The Extra Terrestrial [PG]
Short: CatCam by Seth Keal
DJ: Ayres
Thursday, July 12
Movie: To Kill a Mockingbird [NR]
Short: Eye on the Stars by Rauch Brothers
DJ: $mall Change
Thursday, July 19
Movie: Slumdog Millionaire [R]
Short: Odysseus' Gambit by Àlex Lorca Cercos
DJ: Emch Subatomic (of Subatomic Sound System)
Thursday, July 26
Movie: Clueless [PG-13]
Short: Once It Started It Could Not End Otherwise by Kelly Sears
DJ: Ronin
Thursday, August 2
Movie: Wet Hot American Summer [R]
Short: Summer Bummer by Bill Plympton
DJ: Conquerrah
Thursday, August 9
Movie: Barefoot in the Park [G]
Short: Love Competition by Brent Hoff
DJ: Lupe Loop (of Discovery)
Thursday, August 16
Movie: The Big Chill [R]
Short: Aquadettes by Drea Cooper and Zack Canepari
DJ: Ripley
Thursday, August 23
Movie: Unforgiven [R]
Short: The Hunter by Marieka Walsh
DJ: Geko Jones (of Que Bajo)
Thursday, August 30
The final movie of the summer is selected by public vote! Check back later in the summer for more details
DJ: Emch Subatomic (of Subatomic Sound System)
Comments