Vote Hakeem Jeffries: Charles Barron Endorsed by David Duke, Former KKK Grand Wizard
June 26, 2012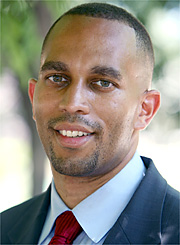 There's quite an intense race in Brooklyn's 8th congressional district (which includes Fort Greene, Bed Stuy, Prospect Heights and East New York) going on. Turnout will be the key to who wins.
City Council Member Charles Barron and Assemblyman Hakeem Jeffries are duking out it out. Last week, Charles Barron got a toxic endorsement from David Duke, a former KKK Grand Wizard and fervent anti-semite.
And what a great reason to vote for Assemblyman Hakeem Jeffries, who is running for congress in the 8th congressional district against City Council Member Charles Barron for Ed Towns' congressional seat. Not that you need a reason to vote for Jeffries, who is a good guy.
City Council Member Brad Lander has worked closely with Jeffries on issues including affordable housing, creating good jobs, and building stronger neighborhoods. "He's great at bringing people together to make real and concrete change. He's going to be a fantastic Congressman. I hope you can support him if you live in Prospect Heights, East New York, Bed Stuy, or one of the other neighborhoods in the district," writes Lander in an email.
The battle for a Brooklyn Congressional seat will likely hinge on one neighborhood in the sprawling and diverse new district- Bedford-Stuyvesant, political insiders say.

With record low turnout expected for the June 26 Demoratic primary to replace retiring Rep. Ed Towns, controversial City Councilman Charles Barron upstart and Assemblyman Hakeem Jeffries have flooded Bed-Stuy with campaign literature and door to door visits in recent weeks, residents say.

"It's the Ohio of the district," a Jeffries campaign staffer said, referring to the perennial swing state in Presidential elections.

While each candidate has carved out sections of strong support in the recently redrawn 8th Congressional district, neither one currently represents more than small enclaves of Bedford-Stuyvesant, long seen as a must win area for any black pol. As many as 9,000 votes are up for grabs based on prior turnout.
Filed under:
Civics and Urban Life
by
admin
·
Comments Off
Tags:
11215
,
Brad Lander
,
breakfast of candidates
,
Brooklyn
,
Brooklyn blog news
,
City Council
,
City Council Members
,
election
,
fifth avenue
,
Fourth Avenue
,
NYC City Council
,
Park Slope
,
politics
Comments