Steve Levin, One of Park Slope's City Council Members
June 22, 2012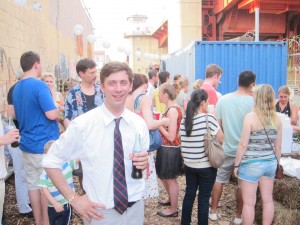 Here's a nice picture of City Council Member Steve Levin drinking a Coca Cola at the First Annual North Brooklyn Boat Club Summer Solstice party last night.
Steve's a very good guy. He represents parts of Park Slope; he shares Park Slope with Council Member Brad Lander.
Yes, he's as young as he looks. I don't think he's still in his twenties but he's probably just this side of thirty.
He grew up in Plainfield, New Jersey and came to Brooklyn to work as a community organizer after he graduated from Brown University.
He ran a  Lead Safe House program and an Anti-Predatory lending program, both based in Bushwick. In 2006, Stephen became Chief of Staff to Assemblymember Vito Lopez. IN November 2009, Stephen was elected to represent the 33rd District of Brooklyn, which covers Greenpoint, Williamsburg, Park Slope, Boerum Hill, Brooklyn Heights, DUMBO, and Vinegar Hill
I remember that election very well. You can read my Breakfast of Candidates  interview with Steve Levin here.
North Brooklyn is part of Steve's district, and the North Brooklyn Boat Club is a very happening thing in that neck of the woods.
Filed under:
Civics and Urban Life
by
admin
·
Comments Off
Tags:
11215
,
Brad Lander
,
breakfast of candidates
,
Brooklyn
,
Brooklyn blog news
,
City Council
,
City Council Members
,
election
,
fifth avenue
,
Fourth Avenue
,
NYC City Council
,
Park Slope
,
politics
Comments