Calcutta Kitchens at Park Slope Farmer's Market Sunday
June 22, 2012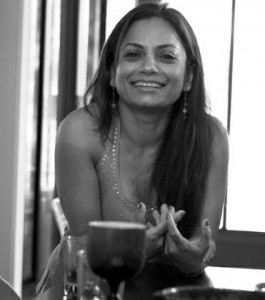 I often buy an Indian simmer sauce from this lovely woman at the Park Slope Farmer's Market (Fifth Avenue between 3rd and 5th Streets). It's so delicious and it taste great with sauteed chicken or vegetables.
She also has summer soups: Chilled Zucchini, Potato & Cilantro Soup. And of course that old stand-by: Green Mango Chutney, which is a must have at any barbeque.
This week, she will also be selling refreshing Nimboo Pani – Fresh Squeezed Indian Limeade, which sounds refreshing and delicious.
Her name is Aditi and her company is called Calcutta Kitchens. She's been selling at the Park Slope Farmer's Market for quite a few years now. Her sauces are reasonably priced and she offers tastes at her Farmer's Market table.
It seems that there's a lot more to Aditi than just selling sauces at the Market. She received an MBA and her transition from corporate career to entrepreneur was fueled by a true passion for food, cooking and entertaining. She also teaches Indian cooking.
I am such a fan that I go out of my way to pick up the sauce because it makes making dinner so easy and delicious. And she's is most definitely not paying me in money or sauce to say this.
I'm just saying.
I see that she's introducing some new products, including: Aditi's Spice Blends: Bengali Five Spice Mix for sautes, soups and stews ("all aroma and no heat!").
Comments