New Logo, New Awning for Community Bookstore
June 21, 2012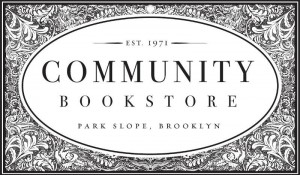 Lots of changes over at ye olde Community Bookstore, Park Slope's center of many things literary and/or bookish. They got a new wood floor, but that's old news.
They've also got some cool newish staff, including Dan Wilbur, this guy who has a hilarious blog called Better Book Titles, and a book by that coming out from Penguin in September. He was at Book Expo a few weeks back and you can see video of him at his site.
They also have a beautiful new logo (hand drawn by A. C. Harkness) and a new bookmark. Soon there will be a new t-shirt and tote bag.
Now they're getting a new awning. I'm not saying it's, like, up yet. But the old one is off. Here's what the CB newsletter writer (Ezra?) had to say about all this newness.
"We're very excited about our new logo (see above) and not only because we think we recognize the fauna hidden among the flora exquisitely hand-drawn by our own A. C. Harkness. We can finally launch many of the projects that had been on hold pending completion of the final design. We have new bookmarks and tote bags, and will soon get an awning that neither leaks nor advertises a cafe that closed before many of our younger customers were born."
Comments