Kings County with Kurt Anderson at The Bell House
June 21, 2012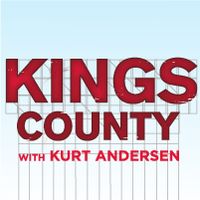 I keep hearing about this on WNYC. I am a fan of Studio 360, Kurt Anderson's Peabody Award winning Sunday night radio show (is it still on Sunday night?). I guess I figured that he was taping Studio 360 from The Bell House but it seems that this is not an off-shoot of Studio 360. It's something more akin to a Brooklyn-style Prarie Home Companion with comedy, music and general Brooklyn mayhem.
Kings County was created by WNYC's Kurt Andersen (Studio 360 with Kurt Andersen) and Steve Bodow, co-executive producer ofThe Daily Show with Jon Stewart, with writing led by Paul Simms(The New Yorker, Flight of the Conchords, NewsRadio). The shows will spotlight incisive interviews, standup comedy and music performances with folks who emanate the spirit, if not the zip code, of the taste-making, hip-shaking borough.
This Sunday, June 24 at 7PM, Kurt Andersen and co-host performance artist Lucy Sexton welcome comedian Wyatt Cenac, the band Chairlift and a Top Secret Special Guest. It only costs ten bucks and then you may want to buy a beer or two at the bar. The Bell House is a real nice space.
Comments