10AM Until 10PM: Make Music New York on June 21
June 19, 2012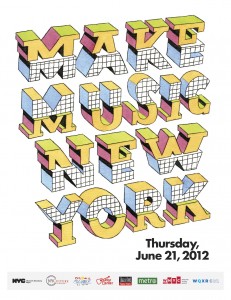 My neighbor Bob Goldberg is particpating in this as he does every year. His group, Famous Accordion Orcehstra will be playing Terry Riley's Music in C as part of this six-year-old event.
Make Music New York, "the largest music event ever to grace Gotham" (Metro New York), is a unique festival of free concerts in public spaces throughout the five boroughs of New York City, all on June 21st, the first day of summer. MMNY takes place simultaneously with similar festivities in more than 460 cities around the world — a global celebration of music making.
It all happens on Thursday, September 21. The first day of summer. Lovely. And it's going to be a hot day.
Comments