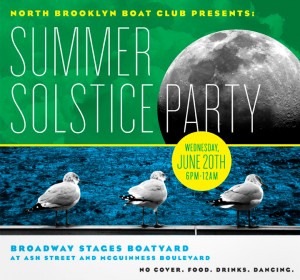 Celebrate the Summer Solstice at the North Brooklyn Boat Club, a group which advocates human-powered boating on/and environmental restoration of the waterways around Greenpoint and Williamsburg, Brooklyn.
They are a volunteer-run community organization. Anyone with an  interest in boating, open space, environmental education, and nautical recreation is invited to join.
I heard about this group at Pastor Daniel Meeter's herring party the other day at Two Boots. An artist there told me about this event and it piqued my interest.
Sometimes North Brooklyn seems so far away from Park Slope. But damn, they do cool stuff over there.
The North Brooklyn Boat Club along the scenic shores of super fun Newtown Creek is throwing its first annual Solstice Party, which is also a fundraiser for the group. The event will include games, food, drinks, dancing, and more.
There is no cover and all funds raised will go towards their volunteer-run community organization connecting Brooklyn to its waterways. The party is this Wednesday, June 20th, from 6pm to midnight at the Broadway Stages Boatyard next to the Pulaski Bridge at 49 Ash Street (at McGuinness Boulevard).
Seems that Brooklyn Brewery and the New York Distilling Company are providing liquids.
The Broadway Stages Boatyard is located at 49 Ash St (at McGuinness Blvd) right below the Pulaski Bridge pedestrian path.