Coney Island Avenue with Elvis Duran
June 5, 2012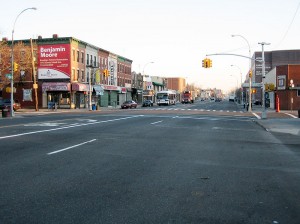 I've been driving OSFO to school lately, which means retrieving the car from its far- flung parking space around 7am, picking up breakfast from the Seventh Avenue newstand (toasted bagel and butter, coffee, a small carton of no pulp Tropicana) and waiting in front of the building for OSFO to come down.
And waiting.
Sometimes it  takes her forever to finish her make up. It's the eyeliner, I think, that is so time consuming.
When she finally appears, we're off and driving. Up Prospect Park West to the Pavilion traffic circle, across Prospect Park Southwest to the other traffic circle and up Coney Island Avenue to Avenue L.
Coney Island Avenue deserves its own post but I will say it's a kooky, busy, action-packed strip in the morning, a cacophony of school buses, car services, SUV drivers, contractors picking up supplies, trucks, and pedestrians zigging and zagging. Listening to the Elvis Duran Morning Show on C-100 makes the drive go quickly. This morning talk show with Elvis, Froggy, Skeery, Greg T, Carolina and Danielle is a caffeine jolt of pop culture, music, phone hacking, call-ins, silly jokes, laughing people.
Did you know the Avenues are in alphabetical order? Albermarle, Beverly, Church, Cortelyou, Ditmas…
Turn left at Avenue L, aka the Pomegranate Supermarket, over to East 18th Street, home of Edward R. Murrow High School.
B-R-E-A-T-H-E.
Comments