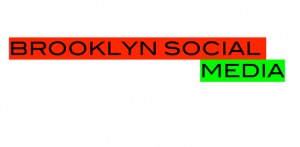 So I'm starting a new business. It's called Brooklyn Social Media. Check me out on Facebook and LIKE ME.
If you wanna LIKE ME.
Back in 2004 I was a blogging pioneer. I launched a blog before anyone knew what a blog was. Sure, some people did but most people said, "What's a blog and why should I care?"
Others thought it was a great way to waste time.
I proved them wrong and made them care with Only the Blog Knows Brooklyn, a popular hyper-local blog for people who are addicted to where they live. Since 2004, I have posted 14,322 posts on OTBKB.
Soon, OTBKB had awesome reach. Lots of people were reading it. The New York Times, Crains New York, loads of blogs wrote about me. I had a weekly column in the Brooklyn Paper. I was interviewed by Brian Leherer, WNBC, Channel 12. I was recognized on the street. Entrepreneurs, artists and businesses barraged me with information about what they were up to because:
I was viewed as a major INFLUENCER.
In 2005, I was inspired to spread the blogging gospel and I founded the Brooklyn Blogfest, an annual networking event for bloggers and entrepreneurs. For six years I ran that event with passion and LOVE. I look back with pleasure and pride at that large community that came together year after year —and the many people who found each other there and made interesting and creative connections.
Interesting and creative connections: Isn't that what's it's all about?
In 2010, the event was sponsored by Absolut  Vodka, who chose the Brooklyn Blogfest as a perfect launch pad for their new product, Absolut Brooklyn.
Flash forward to 2012: I have decided to share my blogging and social media expertise with those in need. My fees are flexible and affordable. I have resources up the wazoo and if I can't do it I know who can. AND, I'm offering a free first consultation so get in touch if you'd like my input and ideas.
So why the name? Because Brooklyn is the social media capital of the world. When it comes to blogging, there are more blogs in Brooklyn than anywhere else in the world (statistic from outside.in and Steven Berlin Johnson).
It started in Brooklyn and I tip my hat to this borough and it's  pioneering influence on blogging and social media.
So here's my pitch:
Let me help you spread the word about your business, your event, your product, your new book, your non-profit, your...
There are numerous ways I can help you:
--A conversation about goals, strategy and first steps
--Lessons or coaching sessions (i.e. what is all this overwhelming social media stuff anyway and what does it mean for me?)
--Consultation (brainstorming and creative direction)
--BSM can design and/or write a blog or website for you;  Create a Facebook, Google+ or Twitter presence
--BSM can write email newsletters, press releases, copy and advertising
The takeaway: BROOKLYN SOCIAL MEDIA will develop smart, well-directed social media campaigns which build relationships and reach influencers.
Oh yeah. Here's my  motto:
Quality + Trust + Authenticity = Brooklyn Social Media