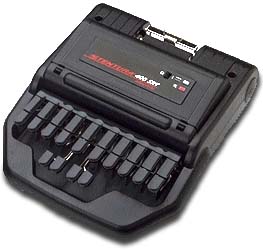 This is Part 2 of an on-going series about my experience training to be a court reporter.
Riding home on the subway after my admissions appointment, with my folder of New York Career Institute materials on my lap, I felt a mix of emotions.  The idea of studying to be a court reporter was like a lifeline. A rope had appeared out of the blue that would, hopefully, pull me out of my mid-life doldrums.
At the same time, the "I'm nots" were reverberating loudly in my head: I'm not young anymore, I'm not the mother of young children, I'm not employed, I'm not rich, I'm not successful, I'm not famous, I'm not especially happy, I'm not secure...
This court reporting lifeline was oddly compelling. At that moment, it seemed like a direct  route to something—a profession—that in my fantasy contained some of the elements that fueled my  passion for life: words, stories, personal histories, characters, listening. The challenge of achieving a steno speed of 220 words per minute was far from my mind.
The economic stability was also very seductive. The flexibility of such career would enable me, I thought, to continue as a writer and creative person. It would be the monetary crutch I needed to survive and move ahead in the world. Court reporting would be my  ticket to success, my armor against failure and economic demise.
In the weeks after my admissions's appointment, I left the NYCI folder untouched on the dining room table. I entered a period of confusion and felt like I was split in two. "Old Me" was dead set against being a court reporter. She didn't want to let go of the fantasy of a life as a sucessful writer, blogger and columnist.
"New Me" was being "realistic" and "practical." She knew I needed to change course and find a way to reliably support the family.
"Old Me" and "New Me" were fighting it out. And they would be fighting it out until I made my decision...
To be continued...