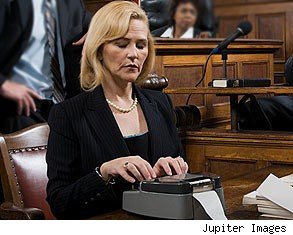 For an entire year, I went into Manhattan four days a week to study court reporting at the New York Career Institute.
People wondered why I aspired to be a court reporter.
Well, it's a long story. Suffice it to say, I had my reasons. Economic, mostly.
I was on the subway one day thinking to myself: How can I make a nice, dependable income? and for some reason I  remembered the stenographer I observed seven years ago when I was on jury duty. I recalled her flying fingers and the graceful way she handled the long, thin sheets of paper.
How does someone get a job doing that?
Mind you, I didn't realize that stenography was its own language. I didn't realize court reporters type 220 works per minute and that it's nothing like typing.
That said, I forged ahead. Thanks to Google, I found the only court reporting school in Manhattan and spoke with a nice woman in the admissions office. The next week I met with her at the school on Park Place in Manhattan. First impressions: Who were all these young women (and a few men) with black rolling suitcases?
There was a crowd of people – very young people of all sizes, shapes and colors –  smoking cigarettes outside the building. I noticed a few people my age but mostly it was a sea of young women just out of high school and college.
The admissions woman told me the training would take about a year to complete training if I was very motivated. She assured me that there were plenty of jobs in the field and that court reporting jobs—freelance and salaried—are very well paid (both statements are true). To train for this lucrative profession, I would need to buy or rent a machine and get one of those rolling suitcases I observed outside.
Of course, I assumed I was the motivated type and it wouldn't take clever me long to reach the stratospheric speeds required of a court reporter. She showed me the stenography machine with its black keys. It didn't look a thing like a typewriter but I was undeterred. I imagined myself in a cute suit working in a court room from nine to five. A regular paycheck, health insurance, benefits and all the rest.
This was in  October of 2010. I filled out an application, sent for my college transcripts, filled out the necessary forms and prepared to begin training in February of 2011. Admittedly it was a strange and out-of-character thing to do. I didn't know anyone who was a court reporter but the idea of making a decent  income and all the courtroom stories I would hear sounded great.
And to be a scribe? Wasn't that like being a writer?