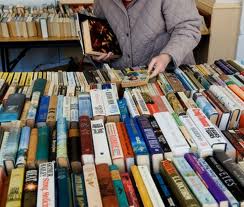 The Slope's best book sale is today and tomorrow at the Park Slope Methodist Church on Sixth Avenue at 8th Street.
A few months ago I ran into one of the organizers and she thanked me for all the times I listed that event, which is in its 19th year. I thanked her and we conversed very pleasantly; I told her that I was no longer blogging. .
Suprise. I am blogging. But as I tell people, I'm not doing hyper-local anymore. However, because she was so nice. Because I have a soft spot for people who thank me. Because I like book sales...
I am doing this shout out for this very worthwhile event.   Did I mention I have a soft spot for worthwhile events...
That's what got me into this mess/blog in the first place