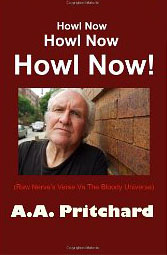 You all know what a big fan of poetry I am so here's a big shout-out to A.A. Pritchard, a poet who was kind enough to send me a copy of his book, HOWL NOW! (Raw Nerves Verse VS. The Bloody Universe), published by Vox Pop Publishing with the help of Debi Ryan, manager of the late, lamented Vox Pop Coffee Shop on Cortelyou Road.
HOWL NOW! has been called "a Lower East Side Book of Revelations."  Indeed, the Lower East Side is Pritchard's inspiration, metaphor and site of his "mad visions of lost Americana (the last dirge beneath the words)."
From the Nuyorican Poet's Café to Lucy's Bar on Avenue A from Tompkins Square Park to La Plaza Cultural on Avenue C, beat poet Pritchard traverses a ragged world with a subterranean verisimilitude.
The book begins with an epigraph from What Happens to a Dream Deferred by Langston Hughes. Turn the page and you're deep inside Pritchard's explosive inner world, where his syncopated words give voice to the nameless faces on the street of veterans, prostitutes, drug addicts, the mentally ill and the dispossessed.
In Howl Now! Pritchards rails against America's indifference to those it has abandoned.  A poet of the streets, Pritchard  is the real deal: a hard living poet with a bracing voice and a radical take on a cruel and heartless world.
To take a look at Howl Now! by AA Pritchard: go to Amazon. You can buy it there, too.