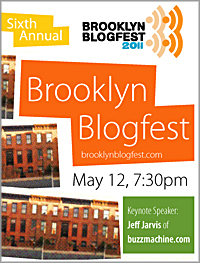 Tickets are now available for the Brooklyn Blogfest, the 6th annual gathering of Brooklyn bloggers, at The Bell House on May 12, 2011 at 7:30 PM (doors open at 7PM) in Brooklyn.
"Where better to take the pulse of this rapidly growing community of writers, thinkers and observers than the Brooklyn Blogfest?" ~ Sewell Chan, The New York Times
Since it was founded in 2006, the Brooklyn Blogfest has established itself as the nexus of creativity, talent, and insight among the blogosphere's brightest lights. This year will be no different as Blogfest presents keynote speaker, Jeff Jarvis, author of What Would Google Do? Jarvis blogs about media and news at Buzzmachine and is director of the interactive journalism program and the new business models for news project at CUNY's Graduate School of Journalism.
Jarvis' must-see presentation, Will Blog for Food (or You Can Make Money Doing This!), will focus on new business models for bloggers!
Blogfest is for bloggers, social networkers, journalists and entrepreneurs. "Whether you live by a blog, blog to live, live to blog (or are thinking of starting a blog) you'll want to join us on May 12th.
Also on tap: a video tribute to Brooklyn's most visionary photo bloggers (by Adrian Kinloch of Brit in Brooklyn), Blogs Aloud (directed by Elizabeth Palmer of Midnight Cowgirls); special networking sessions for like-minded bloggers (i.e. Blogs of a Feather), the return of the ever-popular Shout-out, when bloggers are invited to share their blogs with the world, and a roof-raising after-party with a cash bar, food and music!