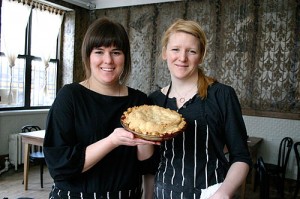 If you're not making your own pies for Thanksgiving here are a few suggestions:
Wednesday at the Farmer's Market at Grand Army Plaza (yes it's open!) Bread Alone is selling pecan, apple and pumpkin pies for $10 each! Get over there soon.
Everybody's talking about Four and Twenty Blackbirds but you better get over there before they sell out. Tuesday people lined up at 7AM. They will open at 8AM on Thanksgiving and stay open until they sell out of: Salted Caramel Apple, honeyed pumpkin, bittersweet chocolate pecan, bourbon sweet potato…yum.
Lady Bird Bakery is another great bet. Remember when it was Two Little Red Hens? Well, they still have great pies including double crust apple, apple cranberry, Fall medley, chocolate pecan, buttermilk chess…
Cousin John's will be open on Thanksgiving selling cran-pear, chocolate pudding, key lime, pecan, lemon meringue, mince meat, peach custard…