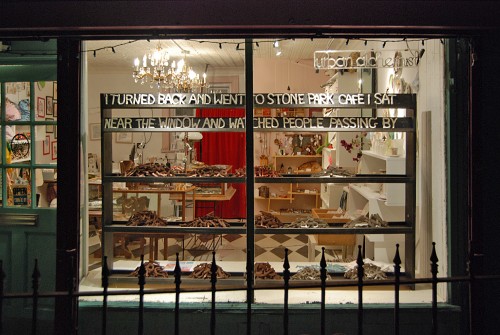 For the past few weeks, Fanny Allié, a young French artist who now makes her home in Brooklyn, assembled clay alphabet letters into a sentence as part of her installation, Something Else, the latest show curated by Krista Saunders and Jill Benson of  G-Train Salon at Urban Alchemist, a Fifth Avenue shop that sells artisan  jewelry, clothing and objects d'art.
"I turned back and went to Stone Park Cafe I sat in the window and watched people passing by."
At the opening earlier in November, Allié told me that she likes to use language in her work though she is not a writer.  "I write for myself, notes, journals. I like words and I think in English now," the native-French speaker told me. In her artist statement she writes: "I explore the notion of trace 
that indicates the existence of others and my own. 

Trace also shows the passing of time. Many of my projects suggest the course
 of time as they examine memories, past actions or incidents, and events that 
happened at a specific and recorded time."
Here's is Fanny's story in its entirety:
The stranger was walking on 5th Avenue in my direction when he got close enough he started talking to me.
He invited me for a drink at Ginger's Bar. We spent hours talking about life.
At midnight we said good bye and we exchanged our numbers. The day after I was walking on 5th Avenue and I saw hm again.
I waved and I smiled at him but he didn't respond. When I was near him I realized he wasn't able to see me.
I turned back and went to the Stone Park Cafe. I sat near the window and watched people passing by.
This G-Train Salon made its debut in a living room on Flatbush Avenue and it is committed to showing the work of emerging artists from Brooklyn and Queens (hence the name G-train) in intimate and unusual settings. A discussion with the artist is an important part of the concept and adds immeasurably to the experience, the curator told me.