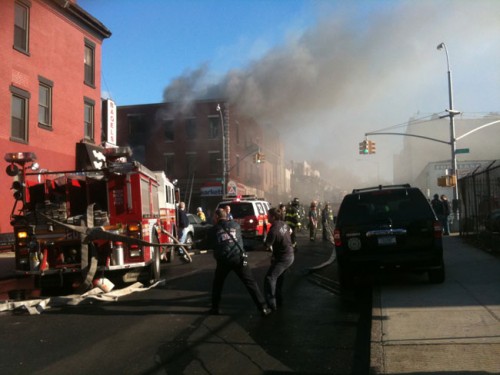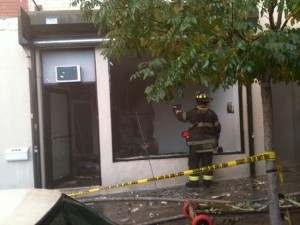 Yesterday's fire on Fifth Avenue and 17th Street ravaged a supermarket, homes and gutted the Open Source Gallery. The gallery sent pictures today with the caption: Open Source will live again.
The fire began in the Park Slope Associated Supermarket on Friday afternoon. Firefighters battled the flames for more than three hours. There were no casualties though some individuals were taken to a nearby emergency room.
Open Source Gallery is a South Slope store-front, project space located at 255 17th street. They describe themselves "a nexus-point between long-time residents and recent transplants, a place for art in the midst of daily life. Open Source Gallery features monthly arts programming, gallery shows, happenings, dinners, and events."
Since opening its doors in 2008 they have presented the work of dozens of artists and organized community participatory events, including "Thrift Shop", which transformed the Open Source project space into a bazaar during the summer, and then "Soup Kitchen", which invited a different artist to cook a one-pot meal for the public each night last December.
It's a cool space and they deserve our support after this terrible fire.