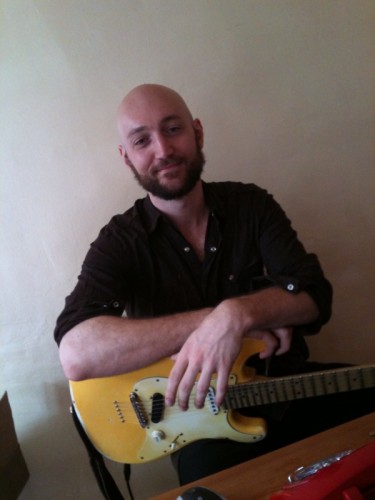 Even before I walked into Fashion East, a new casual women's clothing shop on Lincoln Place in Park Slope, I heard the strains of an electric guitar. When I opened the door I saw that the owner was actually practicing on a cool looking yellow electric.
Musician Aleksandar Torovic, who harks from Belgrade originally, lived and worked as a musician in LA for ten years but moved to Brooklyn because "I was looking for a change of seasons," he told me.
He plans to get back into the music in Brooklyn but for now is enjoying his brand new stint as the owner of a woman's clothing store.
"I like making someone look good for not a lot of money. They'll come back because they look better. Everybody wins," he said.
The shop, which opened two days ago, currently has a nice variety of cotton sundresses and skirts for under $80. Torovic and his partner designed the space on a shoe string with lots of style. They plan to have an opening party and possibly some musical events coming up.
What could be better – clothing store by day, musical salon in the evening? For now, Torovic will be serenading shoppers with his guitar. It certainly adds to the atmosphere of his tiny clothing shop.