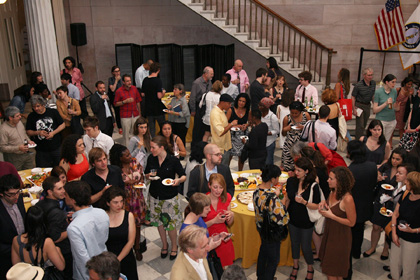 Can you find me in the above picture? It's sort of a Where's Waldo kind of game. I'm on the left side of the picture. Only part of my face is showing.
On Wednesday, June 2, the Brooklyn Literary Council, top authors, publishing industry leaders, editors and literary insiders joined the Brooklyn Borough President's Office to announce more than a hundred of the renowned national and international authors already confirmed to participate in the fifth annual Brooklyn Book Festival, which will take place this fall, Sunday, September 12, 2010, in and around Borough Hall and Columbus Park.
I was there and I enjoyed the white wine, the crudites and my conversation with Electric Literature co-editor, Scott Lindenbaum (full disclosure: they advertise on OTBKB).
In celebration of the Festival's fifth anniversary, the Brooklyn Book Festival "Bookends" Partnership—made up of cultural institutions and performance venues—will present literary-themed events throughout Brooklyn on Friday, September 10; Saturday, September 11; and the day of the Book Festival on Sunday the 12th. Partners include BAM, Brooklyn Bridge Park, the Brooklyn Public Library, Littlefield, Light Industry/Triple Canopy, the Bell House, Book Court, WORD, Freebird, Greenlight Books, Boulevard Books & Café, PEN American Center and powerHouse Books. Programming and events will be announced in August.
I am hoping that there will be a Brooklyn Reading Works event connected with the Bookends partnership. The authors to be included in the BBF include:
BROOKLYN BOOK FESTIVAL 2010 AUTHORS
Nick Abadzis
Dorothy Allison
Steve Almond
Kurt Andersen
Lemon Andersen
Sam Anderson
Jabari Asim
Russell Banks
Sandra Rodriguez Barron
Colin Beavan
Jennifer Belle
Alafair Burke
Joyce Carol Oates
Rosanne Cash
Henry Chang
Lan Samantha Chang
Susan Choi
Kate Christensen
Josh Clover
Michael Connelly
Sloane Crosley
Siddhartha Deb
Jennifer Egan
Stephen Elliott
Martin Espada
Laura Flanders
Nick Flynn
Mary Gaitskill
Cristina Garcia
Feryal Ali Gauhar
Myla Goldberg
Amy Goodman
Jessica Hagedorn
Pete Hamill
Paul Harding
Adam Haslett
Peter Hedges
John Hodgman
Marlon James
Paul Krugman
Anna Lappe
Reif Larsen
Dennis Lehane
Martin Lemelman
Jonathan Lethem
Ada Limon
Sam Lipsyte
Leonard Lopate
Phillip Lopate
Karen Lord
Bernice L. McFadden
Maaza Mengiste
Steven Millhauser
Thurston Moore
Josh Neufeld
Elizabeth Nunez
Sigrid Nunez
Stewart O'Nan
Miyun Park
Benjamin Percy
Jayne Anne Phillips
Katha Pollitt
Francine Prose
Sofia Quintero
Joanna Smith Rakoff
David Rees
Paul Reyes
Charles Rice-Gonzalez
Rahna Reiko Rizzuto
Heather Rogers
Esmeralda Santiago
Rakesh Satyal
Jon Scieszka
Daniel  Serrano
Gary Shteyngart
Mona Simpson
Tracey K. Smith
Scott Spencer
Amanda Stern
Peter Straub
Elizabeth Streb
Terese Svoboda
Rebecca Traister
David L. Ulin
Luis Alberto Urrea
Jean Valentine
Melvin Van Peebles
Jess Walter
Robin Wells
Tracy White
Colson Whitehead
Jacqueline Woodson (youth)
Xiaoda Xiao
Alia Yunis
CHILDREN AND TEENS
Mike Cavallaro
Brian Floca
E.Lockhart
Adele Griffin
Lauren Oliver
Mitali Perkins
Olugbemisola Rhuday-Perkovich
Chris Raschka
Matthew Reinhart
Sergio Ruzzier
John Rocco
Rebecca Stead
Francisco X. Stork
Jon Scieszka
Laura Toffler-Corrie