June 4 to June 13: it's the Brooklyn International Film Festival now in its 13th year and run by my friend Nate Kensinger, who is also a wonderful photograher.
BFF is an international, competitive festival for and by independent filmmakers. Their mission is to "discover, expose, and promote independent filmmakers while drawing worldwide attention to Brooklyn." the group writes on their website.
During the festival more than 100 films: dramas, documentaries, animation and short films are shown.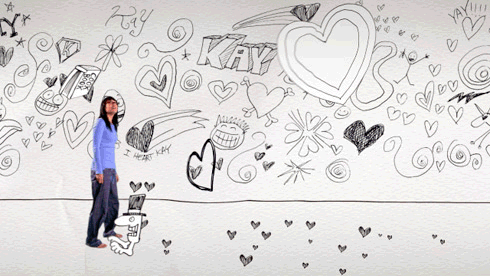 I've already privately screened "Colin Hearts Kay" a really fun live action/animation comedy set in Park Slope about two bloggers who fall in love (see above).
Needless to say: I loved its wacky good humor and animation.
Nathan Kensinger and his team culled through something like  2,400 submissions from throughout the U.S. and abroad. Screening all of them is a Herculean task that ultimately results in an interesting selection of films.
Sixteen of the films shown were made by Brooklyn filmmakers. Quite a few of those were shot right here in Brooklyn.
Brooklyn International Film Festival is at the Brooklyn Heights Cinema (70 Henry St. between Cranberry and Orange streets in Brooklyn Heights, (718) 596-7070) and indieScreen (285 Kent Ave. between S. First and S. Second streets in Williamsburg, (718) 388-4306). There's an opening night party at powerHouse Arena (37 Main St. between Water and Front streets in DUMBO, (718) 666-3049]. For info, visit www.brooklynfilmfestival.org.