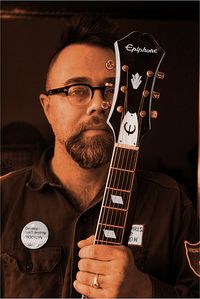 Scott Turner is flying in from Seattle (where he recently moved) for Friday night's closing party for Freddy's Bar and Backroom. It's like seeing someone at a funeral: great to see you, sorry it had to be for this. It is surely the end of an era for Freddy's at its location on Dean Street in the Atlantic Yards footprint. The legendary bar will be moving to Fourth Avenue in Park Slope this summer.
Hi, all...
I'm a long way away -- in a land where the daytime high in the mid-50s was swell in February and a drag in mid April.  A land where bike riders think they're Lance Armstrong, where it doesn't rain as much as New York.  A land where I can see and hear freight trains, cargo ships and landing planes out my front window.  A land where here, too, a dumb-ass government has spent years shoving a rich-person's development project down everyone's throats.
...a land not too far to grieve over the passing of Freddy's Bar & Backroom.
That would be this Friday, April 30, at the corner of Dean Street and Sixth Avenue -- the future site of not a school, not a health clinic, not an AIDS or cancer research center, not a job-training facility, not an emerging small business, not an artists' colony, not a community center, not one stitch of affordable housing, not open space or green space or free space or peoples' space.  The future site of some ancillary structure connected to a Russian oligarch's basketball team's arena.
Friday is the last hurrah for everyone who's ever loved Freddy's -- the bands, the quizzes, the karaoke, the knit nights, the opera nights, the cringe-nights, the bartenders and staff , the Rev 99 video mixes on the corner t.v. set, the refusal to let people watch Nets games these last seven years, the characters who lived (and a few who stopped living) in the sturdy, eccentric latticework of raw emotions and creative fireworks exploding in Freddy's every night.
Even when Freddy's was dead, it was alive.  And when it was alive, you could sometimes feel the dead brush up against you.  Not to haunt or frighten.  Just to join in the fray.  The dead know something about fray-joining.
Because the Atlantic Yards project continues to be mired in controversy, failed promises, suspect financing and the utter lack of democracy and decency, these last nights at Freddy's will feel, weirdly, like a victory.  We know the battle was worth fighting.  We know that fighting City Hall is A) the right thing, B) the fun thing and C) the necessary thing.   Miscreants like Bruce Ratner and Michael Bloomberg, and their sycophantic successors, will never try this again.  In spite of New York City's notoriously short memories ("who's this Robert Moses, again?") and post-Bush-era self-absorbancies, folks will remember this battle.
Why?  Because for generations, Atlantic Yards will be remembered as the Great White Elephant That Forgot -- forgot to stop killing everything in its path.
Let's start not-forgetting by meeting up at Freddy's this Friday, for Goodbye. All the Freddy's musicians will perform.  RebelMart will be flying in from Seattle for a few songs.  It'll be something to see, all those singers just nights before moving day.
We'll be cradling these moments, ready to fashion new ones, and terrifying governments who always ignore the dangerous weapons that memories can be.  In the words of Captain Malcolm Reynolds, "no, they won't see this coming."