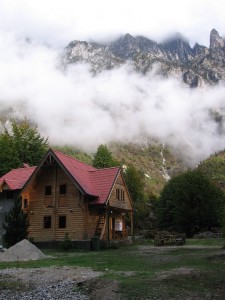 Yesterday at the sale of Catherine Bohne's personal book collection on 8th Avenue in Park Slope I learned why she is selling her books and where it is that she's going.
I will share just a bit of the story now and will continue over the coming weeks. Think of it as an unfolding. The facts will be told as the facts are known.
What Catherine told me yesterday is that she has fallen in love with a new place and a new man. The place is Albania and Alfred is the name of the man.
It is a very romantic tale of one woman's serendipitous adventure that led her to what she'd always wanted.
Last January, after eight exhausting and laborious years of running Park Slope's beloved Community Bookstore, Catherine decided to take a vacation. Two weeks away. Some time to relax, explore and think. As someone who has always loved travel it seemed like a fine idea.
So she drank a bottle of red wine, talked to friends and eventually cashed in a pile of air miles and booked a ticket to Albania.
"When I  was 11 years old, I was on a boat with my mother and father. The boat went past the most mysterious landscape I've ever seen and I wanted to get off the boat. I said "Dad – what's THAT?" "That?" answered my father, "That's Albania, Catherine. No one can go there," she told me yesterday standing in front of her apartment building.
A little back story: Catherine's mother is Italian/Croatian and her father is from Brooklyn. As a child she spent summers in Croatia and as a teenager she lived in Africa.  "I have almost always felt more at home in the world, than at that home in the home where I'm supposed to belong, she writes on her blog.
Thirty years after that boat trip with her parents, Catherine got to Albania. Most of all she wanted to see Northern Albania, a very difficult place to travel to. "Why do you want to go there?" she was asked constantly by the Albanians she met on her journey.
They could not understand why this solo traveling American woman wanted to see Northern Albania. But as those who know Catherine will attest, she likes to do difficult things and she likes adventure. Not surprisingly, Catherine did her research and found out (from a travel blog) about the Hotel Relindja owned by a man named Alfred in place called Valbona.
On her long journey north through rural Albania, which included long rides on small buses and ferries, she would tell the people she met that she was looking for a man named Alfred.
Coincidentally (or fatefully) she met Alfred's cousin on one of those small buses and when they arrived at their destination she introduced Catherine to her cousin. "He is tall and regal looking. Like a prince," she told me. He speaks good English  (after four years in England working at a German car factory), is in his mid-thirties and lives on his family's farm.
Love. Destiny. Life on a small farm in Valbona.
But that's not all. From the sounds of it, Alfred is the Catherine Bohne of Valbona. A man of the community, he is a trusted leader, a compassionate and helping person, a connector, a creative thinker.
Within days, Catherine was in love, helping Alfred on his rounds visiting neighbors and friends. She was learning Albanian. She was figuring out ways to make Valbona a tourist destination, which could be an economic engine for this impoverished and extraordinary region, which has little in the way of modern conveniences.
In the months since that first trip, Catherine has been back to Valbona more than once. She is planning to sell the bookstore, she is moving to Valbona for good and she started a  website about travel to Valbona called Journey to Valbona. Here is an excerpt from one of her blog posts:
Like all smart children, I have always wanted to run away from home.  Is this why my reason for traveling always seems to be to get away to somewhere?  I mean get away but also to GET to somewhere.  Be somewhere else.  Perhaps be someone else.  Live in a different world, but I mean live, not just visit.  I don't want to go: where there are lots of tourists, to generic resorts that could be anywhere, to places that make me feel like I'm in a frozen, pre-prepared, pre-packaged museum (though those can be amusing), or to places which have been somehow warped by the traffic of tourists.  I do want to go:  to places which are really real, to places of that particular joyful solemnity that accompanies true beauty, to places where I can wander and get lost, to places where I will learn something, to places which are quiet and to places where I can know and be known.  I'm not very good at doing nothing, so I like joining in and lending a hand, being useful.  My idea of "doing nothing" is writing and drawing and having adventures, so I also like places where I am free to wander around and where people will allow me to prove myself, and just laugh if I seem a bit eccentric.