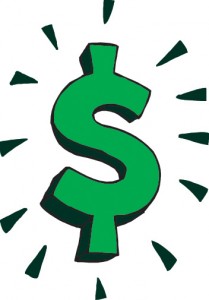 "The truth is that money is often a divisive influence in our lives. We keep our bank balances secret because we worry that being candid about our finances will expose us to judgment or ridicule—or worse, to accusations of greed or immorality. And this worry is not unfounded."
–Jenny Offill and Elissa Schappell, Money Changes Everything (New York: Doubleday, 2007), p. xi
Brooklyn Reading Works:
The Truth and Money
On April 15, 2010, the Brooklyn Reading Works will present its monthly writers' program on "tax day." This happy accident, observed last summer in a casual conversation with John Guidry of the blog, Truth and Rocket Science resulted in the idea for a panel called "The Truth and Money," a reading and Q & A with three authors whose work has taken on money in some significant way.
Our three panelists are:
Elissa Schappell, a Park Slope writer, the editor of "Hot Type" (the books column) for Vanity Fair, and Editor-at-large of the literary magazine Tin House. With Jenny Offill, Schappell edited Money Changes Everything, in which twenty-two writers reflect on the troublesome and joyful things that go along with acquiring, having, spending, and lacking money.
Jennifer Michael Hecht, a best-selling writer and poet whose work crosses fields of history, philosophy, and religious studies.  In The Happiness Myth, she looks at what's not making us happy today, why we thought it would, and what these things really do for us instead.  Money—like so many things, it turns out—solves one problem only to beget others, to the extent that we spend a great deal of money today trying to replace the things that, in Hecht's formulation, "money stole from us."
Jason Kersten, a Park Slope writer who lives 200 feet from our venue and whose award-winning journalism has appeared in Rolling Stone, Men's Journal, and Maxim.  In The Art of Making Money, Kersten traces the riveting, rollicking, roller coaster journey of a young man from Chicago who escaped poverty, for a while at least, after being apprenticed into counterfeiting by an Old World Master.
Please join us for the event at 8:00 p.m. on Thursday, April 15, 2010, at the Old Stone House in Washington Park, which is located on 5th Avenue in Park Slope, between 3rd and 4th Streets, behind the playground.