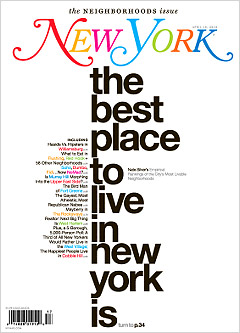 Park Slope tops the list in New York Magazine's cover story,  The Best Place to Live in New York.
Big surprise.
The list was compiled by blogger and statistics maven, Nate Silver of  fivethirtyeight.com.
According to the Daily News, "Silver used a complicated statistical formula that factors in everything from diversity to safety to nightlife, giving housing affordability more weight than any other category>"
Second place: The Lower East Side, which got points for its plethora of bars and restaurants.
Third place: Sunnyside, Queen which Silver found to be affordable
Fourth Place: Cobble Hill/Boerum Hill
Fifth Place: Greenpoint