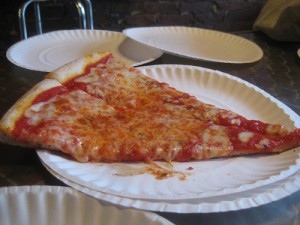 Jeffrey Tastes, is a food blogger, who records and documents his experiences eating food in Queens, Brooklyn, New York City and Long Island
Recently he came to Park Slope and ate in a lot of the neighborhood's classic pizza shops. Clearly the man loves to eat and he ate a whole lot of Slope pizza.
I was lucky enough to take nearly a full pie's worth of people on my Park Slope exploratory pizza tour. I'm not used to it, usually it's just me and my Schwinn, but I'm happy to have such support on these missions.

Luigi's is already slated for the tour, but I wanted to explore the many other pizzerias here. We hit the Slope hard.
Jeffrey started his tour at La Villa and went on to Tomato and Basil on Fourth Avenue near Union, Peppinos on Fifth, Lenny's also on Fifth, Peppe's and Toby's Pizza House on 20th Street.
The guy knows how to write about pizza that's for sure.