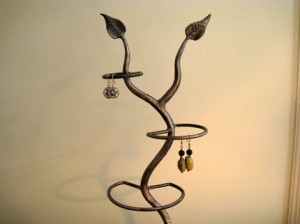 OTBKB is a proud sponsor of the Lyceum Spring Food & Craft Market on May 1 & 2nd at the Brooklyn Lyceum on Fourth Avenue and President Street. This year, the market is taking up two floors of the Lyceum and it should be quite a show. There will be a boatload of high quality artisanal craft and food items, as well as workshops. It should be a fun event.
My pick for this week's Vendor of the week is: Hammeronsteel: Hot iron & Forged Steel Elements for the Home. They make earring stands, bottle openers, lamps and more. Here's what they have to say on their website.
Hot steel moves me. So I move hot steel.

Every object I produce is one of a kind, and while there may be some thematic similarities, no two pieces are ever exactly alike. I take great pleasure from creating custom work, so please don't hesitate to contact me if you have something in mind that you don't find here.