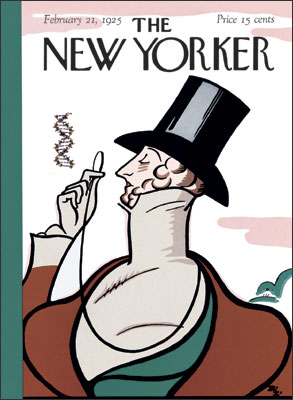 Somebody at the New Yorker has been keeping close tabs on what goes on in Brooklyn. And it ain't Eustace Tilley. It's shopping writer, Patricia Marx, and she has her fun with Brooklyn. But in the process she mentions a host of stores that we hold dear.
Here's the "abstract" of the story which is all I could get from the New Yorker website. To read more you've got to read the magazine or have a subscription to Newyorker.com
In terms of square miles, Brooklyn is New York's second-largest borough, after Queens; in terms of population, it is first. If Brooklyn were a city, it would be the fourth most populous in the United States. If Brooklyn were a country, its chief exports would include artisanal pickles, eco-friendly yoga wear, Red Hook Saipua soap, and books written by men named Jonathan. Writer surveys a number of Brooklyn neighborhoods. Park Slope is where parents recently won the right to bring kids in strollers into a local bar. Mentions Beacon's Closet. Fort Greene (a designated historic district) is "an urban fantasyland" with some superb shops: Stuart & Wright, Cloth, and Marcus Malchijah's hat studio as well as the Brooklyn Flea. Atlantic Avenue in Boerum Hill is now one of the best shopping districts in town, with such stores as Eva Gentry, Darr, Hollander and Lexer, Layla, Annie's Blue Ribbon General Store, and the Acorn, a toy shop. In Carroll Gardens, there is a remarkable degree of D.I.Y. cottage industry going on. Writer mentions Caputo's mozzarella (made fresh hourly), Cozbi Cabrera's linen dolls, Ruby Moriarty (where clothes and other oddities can be bought alongside occasional performance-art shows), Proteus Gowanus, and Swallow, a gallery on Smith Street. In Williamsburg, cheap frame houses suggest a New England mill town, but hipsters can no longer afford the rent. Writer mentions C.B. I Hate Perfume, The Future Perfect, Moon River Chattel, Honey, Sweet William, Malin Landaeus, Fille de Joie and Red Pearl. In Greenpoint, the new destination for hipsters, writer mentions Alter and Pip-Squeak Chapeau. In Dumbo, there is hand-crafted chocolate at Jacques Torres Chocolate, Danish furniture at Baxter and Liebchen, and prewar and mid-century Czech avant-garde furniture at Prague Kolektiv. In Red Hook, writer mentions Erie Basin. Brooklyn boosters will swear everything is a short walk from the subway, but don't believe them. Get a car.