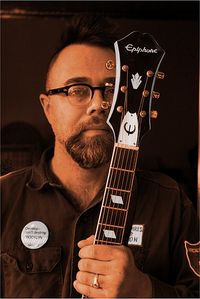 Scott Turner is set to move to Seattle. This is his last Greetings for a while. He can write whatever he wants.
Greetings Pub Quiz Friends…
Sure, it's a mawkish way to begin this last Quizmail of the Scott M.X. Turner era.
It's my last one.  I can write whatever I want.
Well, that's misleading.  I always write whatever I want.
Sitting here now, on a scrappy and, by noon tomorrow, already-forgotten snowy night, I stare at the keyboard.  Then the screen.  Then my blackboard here at Pub Quiz Actual a half-block from Green-Wood Cemetery.  See, Homeland Security, you don't need to triangulate nuthin'.  Just keep reading.
Here's the first thing I can report: The E, A, S, K, O, L, C, N and M keys are really wearing down — N, especially.  Without the touch-typing Mrs. Nichols taught in my junior year at W.H. Page Senior High in Greensboro, NC, the ruler-whack-across-the-knuckles-every-time-I-looked-down-at-the-keys school of touchtyping instruction — I wouldn't know what any of these keys are.
Thank you, Ms. Nichols, you brutal mean-spirited toad.
Here's what else I can report.
I love Brooklyn.
I hate Brooklyn.
Is it any wonder these battling eternities go hand in hand?
I love Brooklyn for the following reasons: Freddy's Bar, Rocky Sullivan's, MissWit T-Shirts, the dead-and-gone Gage & Tollner, Ebbets Field, The Usual on Vanderbilt Avenue, Tom's Restaurant on Washington Avenue, Coney Island without Thor or Bloomberg and definitely including Ruby's, the craggy streets, the countless mom'n'pop stores, Neergaard's on 5th Avenue, Has Beans on 5th, Red Hook, Floyd Bennett Field, Develop Don't Destroy Brooklyn, FUREE, The Spunk Lads, John Pinamonti, Plastic Beef, Seanchai & the Unity Squad, Michael Patrick MacDonald, The Larch, Robin Aigner, the John Sharples Band, Wombat Studios, The Magpies, Alex Battles, Karen Sorenson's LOVE Project, the Ditty Committee, artists Conor McGrady and Kevin Noble, Paul Lukas' Uni Watch website, Green-Wood Cemetery and, most favorite of all, Henry Chadwick's grave and helping Minerva wave at her French sister in the harbor, Sunset Park, the parts of Park Slope that — well, you know which parts those are, Only The Blog Knows Brooklyn, Manson Family Picnic, Norman Oder's Atlantic Yards Report, No Land Grab, Puzzling New York, Diane and Sirius and Tikkanen and Connolly, Men & Cats, the Knit-A-Jig crowd, Melody Lanes, Tony Avella — yes, he's from Queens, but over the last five years he's come to Brooklyn's defense more often than most Brooklyn pols, the Atlantic Yards Photo Pool photogs (Tracy Collins, Adrian Kinloch, Jonathan Barkey), the Brooklyn Paper before it its editorial independence got swallowed whole by new owner Rupert Murdoch, Chrysalis Archaeology, Michael Hill's Blues Mob, The Kennel Studio in East Williamsburg, Michael O'Keeffe and the Daily News' sports I-Team, The Battle of Brooklyn, Joe at John Hlad Plumbing, Chris Owens, Josh Skaller, Bill Batson, the neighborhood interface areas where Orthodox Jews meet Asians meet Caribbeans meet Africans meet Irish meet Latinos/as meet Italians meet WASPs meet African-Americans meet Laplanders meet Orthodox Jews meet…, amazing artist Alyson Shotz, amazing videographer and producer George Lerner, John Costelloe, Roger Paz even though he's out in Detroit, BCAT, Teddy's in Williamsburg and the Charleston's pizza/beer combo, the Fifth Avenue Committee, Park Slope Neighbors, the Brooklyn Greens, John Turturro, Steve Buscemi, the Navy Yard, the Brooklyn parrots, the Red Hook vendors, the B77 bus, everyone who's fought Bruce Ratner's Atlantic Yards, the F train's view of the harbor on summer afternoons, Tuniserve Deli — my morning newspaper joint, Critical Mass, Brooklyn Vs. Bush, Mazzotti Music — the kindest and best musical instruments store and now the kindest and best out-of-business music store, Prospect Park and its timelessness any time of day time of year, my dear friends on the DDDB staff — Dan, Candace, Eric, Gloria and loud'n'proud Lucy, and most germane to this dispatch, the crowd for two-and-a-half years that has been coming to the Rocky Sullivan's Pub Quiz.
My grandfather once warned me that hatred is a dangerous tool.  But, unlike most Lutheran men born in 1899 who worked their whole lives at the YMCA, he didn't say "don't hate."  He said "don't hate if you don't know what you're talking about."  Thanks, Poppo.  Here's that list: Bruce Ratner, Marty Markowitz, Roger Green, BUILD, the local chapter of ACORN, the Atlantic Yards monstrosity, the local construction unions whose myopic embrace of Ratner has condemned countless working-class people — many in sister unions throughout the city — to a worse and not better life, Joe Sitt, Coney Island as envisioned by Michael Bloomberg, the 4th Avenue rezoning plan, Joe DePlasco, Bruce Bender, Barclays Bank, Mikhail Prokhorov, the hypocritical Brooklyn Brewery, Williamsburg/Greenpoint/Bushwick hipsters — yes, an easy target but you don't get to be an easy target unless you are, simply, a target, the Atlantic Terminal Mall, the Atlantic Center mall, MetroTech, the endangered species that is small-business in this borough, Greenpoint/Williamsburg rezoning, Marty Golden, Carl Krueger, Joe Chan, and most germane to every dispatch I've written since I've lived here, Brooklynites who'd rather sip expensive coffee and resort to today's stick-their-heads-in-the-sand —  their laptops and iPhones while every class and community is run roughshod over by the worst mayor this city has ever seen, Michael Bloomberg.
See — I love more about Brooklyn than I hate.  Another thing I hate?  That I've left people and things off the Things I Love list that I shouldn't have.  Apologies.
I'm also not boldfacing anything this week — everyone's equal here.  Everyone's Brooklyn.
By the way — if you wanna stay in touch, send a recipe, or vainly try to argue that Michael Bloomberg is, in fact, not the worst mayor this city has ever seen (good luck with that), write to me at: scottmxturner(at)gmail(dot)com.  If you wanna see where I'll be working days while playing music at night in Seattle, head to Ebbets Field Flannels' website.
Brooklyn, of course, will always be it's own thing.  Whatever "own" and "thing" end up being, it's Brooklyn's to figure out.  Will Kings County end up going the way of RebelMart's cheerfully-titled new album Brooklyn Is Dying?  Prolly not.  But in the coming years and decades, will it stop being the Brooklyn generations have always been so proud of?
Somewhere in the recent past, Brooklyn turned into "Brooklyn."  To use one of Mayor Bloomberg's more jackassed constructs, Brooklyn has become a "destination."  What does that mean?  For starters, it's something for visitors to Brooklyn, not the people who live here.  We're already here.  How can it be a destination?
Normally, that kind of idea would just be a mostly-harmless tourism inducement.  But with jackals like Bloomberg and Markowitz, it's far more harmful and insidious.
Bloomberg has made a mayoral career out of keeping his hands clean when they're dirty beyond all measures of political hygiene.  He throws more money and legal bribery around than Boss Tweed ever dreamed, all the while the local media and citizenry letting him scamper back to the Upper East Side, unaffected and untroubled.
Hizzoner doesn't do the hard work on issues that has residents screaming — affordable housing, job creation, education.  Instead, he focuses on big-ticket projects that only enrich real-estate friends of his — the new Mets stadium, the new Yankees stadium, Atlantic Yards, Willets Point, Columbia expansion, Greenpoint/Williamsburg rezoning, Coney Island, 4th Avenue upscaling, the West Side Stadium, the 7 train extension, the Hudson Yards, the Olympic bid.
This emphasis on "destinations" leaves most Brooklynites out in the cold.  Sometimes literally, like over the MLK Day eviction of homeless-shelter residents in Prospect Heights to make way for the Nets' new arena.
Brooklyn used to be a place to live.  It still is, but much of the city's and state's policies directed at Brooklyn have to do with Brooklyn as a brand, as a commodity, as a contrivance.  It's hard to get services in East New York or Bensonhurst when our leaders only see a few choice blocks and treats them Disney's Main Street USA.
Brooklyn's music scene is a good example of everything good and bad about the borough these days.  There are tons of bands.  That's great.  But is there a scene?   Is there an energy?  Is a butterfly flapping its wings to set off the next NYC musical hurricane?  Not in Brooklyn.  Back in 2007, Sasha Frere Jones' controversial New Yorker piece, "A Paler Shade Of White," fairly perfectly elucidated what's wrong with a lot of bands in Brooklyn today.
In Frere-Jones view, white rock bands today are lame because a) they don't look to the world for inspiration, preferring the safety, comfort and boredom of their self-absorbed inward-thinking lyrics, and b) haven't the slightest use for or interest in Black music.
I'm not painting with a broad brush.  There are lots of Brooklyn bands who don't fit Frere-Jones' analysis.  But many do, enough of a critical-mass that Brooklyn's musical output — at least in rock realm — seems content.
That's the worst thing rock music can be.  Content.
"Young and beautiful
Someday your looks will be gone
When the others turn you off
Who'll be turning you on"
Even the Captain and Tennille were more aware of lurking dangers.  Sure, they were singing about love, but too many Brooklyn bands are just young and beautiful.
Freddy's Bar — the Fightin' Freddy's, desperate to survive and keep on being the one thing Bloomberg and Markowitz and Ratner will never comprehend — a place where people can be free of the moneyed blandishments of New York City 2010.  Rocky's is the same way, but it's not standing in the way of a useless, frivolous 20,000 seat waste of taxpayer money.
Brooklyn is beautiful.  But to earn that beauty, we're constantly subjected to battleground bloodletting.  I think Bruce Ratner's a scumbag.  Over the past six years, he has knowingly and strategically exploited class and racial tensions to get his Atlantic Yards bauble built.  He's hung his own allies out to dry when they no longer suit his needs.  He lets cohorts dangle in the wind like a Roman emperor.  He's the classic schoolyard dick — picking a fight, hiring surrogates, telling them "did you hear what they called you?" and stepping back.  If the Atlantic Yards battle is dog-fighting ring, Ratner is Michael Vick — moneyed, powerful, arrogant, and when the going gets tough, is festooned with a retinue of legal, fiscal and cultural warriors to get him of the hook.
Meanwhile, Marty Markowitz flits over the corpses like a clownish ghost dancing through a Matthew Brady battle aftermath photograph.  "Good people can disagree" he chortles whenever Brooklynites dress him down at a public event.  What Markowitz means is "if they disagree with me, they're not good at all."  Or, when he really wants to throw a few feeble thunderbolts, he twists the "good people" inference to mean "if you don't agree with me, you're working against Brooklyn."
You know what?  Marty Markowitz is the most Manhattan-centric guy in the borough.  He wants an NBA team…like Manhattan has.  He wants tall office and condo buildings…like Manhattan has.  He wants an onslaught of tourists…like Manhattan has.  He wants a huge sports arena…like Manhattan has.  He wants corporations in Brooklyn…just like Manhattan has.  He wants asthma-exacerbating traffic jams…just like Manhattan has.  He wants more wealthy people to move into "urban Brooklyn" (his phrase) with the inevitable displacement of working-class communities of color, just like Manhattan has…he wants as many big non-union chain stores as he can get…just like Manhattan has.  He wants Brooklyn to have "destination status"…just like Manhattan has.
What did we do to get a borough president who, it turns out, despises Brooklyn this much.  And who, for good measure, tosses every comic-book Brooklyn cliche he can find into the mix.
And still…and still…there's the beauty.  Flatbush on a summer day with reggae and soca pouring out of the shops…the elegant latticework of the Brooklyn Bridge…the delicious food from anywhere in the world just about anywhere in the borough…stoops in warm-weather twilights…the history of the place, from the Battle of Brooklyn, Weeksville, Ocean Hill/Brownsville, Yusuf Hawkins, the Crown Heights riots, the wharves and small businesses and the Dodgers (and also Royal Giants, Americans, Tigers, Bay Parkways, Bushwicks, Bridegrooms, Robins, and yes, the Superbas!) and Walt Whitman and Shirley Chisholm and the Roeblings and Jackie Gleason and the Fox Theater and immigration stories piled high and tall-tales piled even higher.
Brooklyn is fists ready to fly and fists held high.
Brooklyn is the lights of Steeplechase Park and the two-eyed monster bearing down through the labyrinth of the Atlantic/Pacific Station.
Brooklyn is where Bushwick burned a lot more than the Bronx in the summer of '77.
Brooklyn is the heart and soul of a city with 8 million hearts and souls bouncing off of each other like atoms in a super-collider — an engine the current brigands of City Hall want desperately to pull the plug on.  Atomic frenzy terrifies people like Bloomberg and Markowitz and Ratner — because they can't control it, can't predict it, can't suppress it.
Precisely the reason that if Brooklyn is to survive and be more than just a spiteful diminutive man's "destination," it has to agitate.  Always and forever agitating.  Every heartbeat an agitation — the energy necessary to pump blood through our veins.  Agitation for life, for eccentricity, for oddity, for community and family and at least one good locally-owned pizzeria within walking distance.  As contentment is the death knell for rock bands (and rappers too), so will complacency walk Brooklyn down Memory Lane after the lobotomy kicks in.
I might be back here someday.  That's uncertain.  What's certain is that I'll never love a place as much as Brooklyn, New York.  And I will never fight this hard for a place ever again.
Not because I'm tired of fighting.
Just because it won't be Brooklyn.