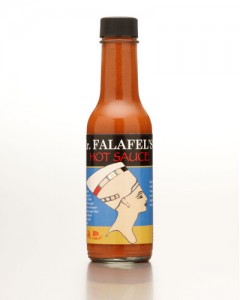 If you love their falafel, gyros, tabouli, babaganush, hummus, and especially the statue of the Egyptian outside their shop as I do, you'll be glad you can finally purchase (online and in the shop)  Mr. Falafel's much celebrated Egyptian hot sauce.
Mr. Falafel's, a family business on Seventh Avenue between 3rd and 4th Streets in Park Slope, opened 28 years ago. The statue was purchased by the owner during a vacation in Egypt. A few years back, a customer tied his dog to the statue. While the customer was waiting for his order inside, the dog bolted and dragged the statue behind him down Seventh Avenue.
The customer and owner found it in pieces on Garfield Place. The owner tried to replace it but could not. Finally he had it repaired and repainted.
The secret to our proprietary recipe is thousands of years old, from the days of Nefertiti. The subtle blend of flavors perfectly compliments, never overpowers your food. Hot sauce aficionados, make way for a new favorite. Buy a bottle, buy a case!