I nearly bought a chair for my living room at the Brooklyn Flea today. Instead I bought a Scottish beret, which reminded me of something I wore as a girl.
While there's a lot to see at the Brooklyn Flea, the star is, of course, the space itself. Now that's when banks were banks. What a room. The Williambsurgh Savings Bank building (One Hanson Place) built in 1927 reminds me of the Central Savings Bank on the Upper West Side, where I had my first savings account as a first grader at PS 166. Our teacher took the whole class to the bank to set up accounts.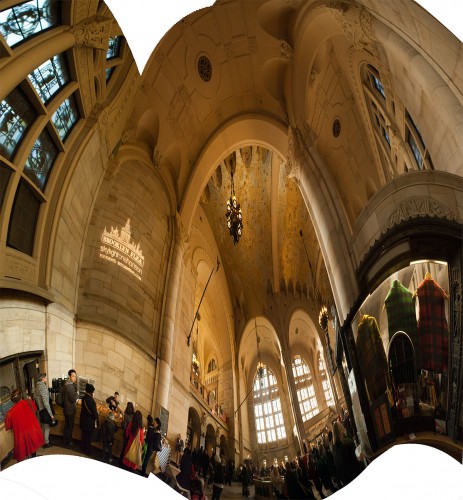 I think I had $8 dollars in there.
To call it a grand room is a vast understatement. It is the kind of architecture that cities used to be about: on par with Grand Central Station, the old Penn Station, the Central Post Office, the main branch of the New York Public Library.
It's a friggin awesome space that makes you feel exalted. And what a blast to have the flea there for 8 weeks this winter.
The Flea takes ups so many neat spaces. The food is in the vault downstairs, there are vendors on the mezzanine and the majority of the vendor booths are in the grand bank space with windows that will make you swoon. And at 2 PM or so when the light starts to pour in…
Ahhhhh.
As for the goods: it's a mixed bag. I found things to consider buying: groovy old valentines (dang I shoulda got them, cool lamps, the chair I considered for the living room from a vendor based in Hudson, NY).
Finally I bought that Scottish beret from a dealer who calls himself, jokingly, Sea Hair. Apparently it's a construction worker's obscene joke. The guy stands on a box and plays the guitar while selling his assortment of wares.
So you must go to the Brooklyn Flea. Meet a friend there. Have coffee from the pastry and coffee vendor near the front (or something tasty from the vault downstairs) take in the soaring architecture, browse around, feel exalted for a few hours one of these winter weekend days.