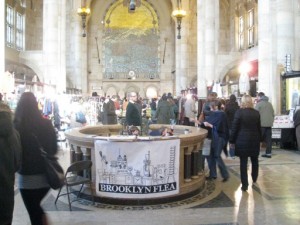 Preeminent New York City and Brooklyn historian Prof. Ken Jackson (Columbia Univ.; The Encyclopedia of New York City, ed.; The Neighborhoods of Brooklyn, co-author) will join Prof. Stuart Blumin (Cornell Univ.) at the Brooklyn Flea at One Hanson to provide a freeform public talk on the history of the Williamsburgh Savings Bank Building and its relationship to Brooklyn as a borough, and formerly as a city unto itself.
The approximately 45-minute talk will take place at the kiosk at the main entryway to the Flea/bank, starting at 3:00pm this Saturday, January 23. The event is free and open to the public. Directions are available at www.brooklynflea.com.
Brooklyn Flea has moved into the beautiful bank space—now managed as an event space by Skylight One Hanson—for 12 weekends, through March 27/28, Saturday and Sunday from 10:00am to 5:00pm, with 100 vendors on three floors: the main-floor bank space, mezzanine, and lower-level vault. The market has attracted nearly 10,000 visitors each of the first two weekends at One Hanson, and the Flea is building on its activation of this public space by highlighting the special significance the landmark skyscraper holds in both Brooklynites' imaginations and the borough's compelling history.
Professors Jackson and Blumin will delve into the building's architectural details—from the giant golden mosaic map of Brooklyn on the bank's back wall to the wrought-iron depictions of artisans and skilled workers in the stained-glass windows—while linking them to the broad narrative of Brooklyn as a longtime capital of the American working class. They will also answer questions from the public.