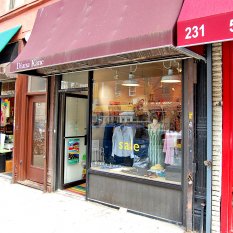 A quick chat with Damond, one of the owners of Scaredy Kat, a neighborhood card & gift shop located on Fifth Avenue area that has catered to the Park Slope community since 1999, revealed that holiday sales for 2009 were their best ever.
"Our sales were good," Damond told me. The shop recently moved into a larger space, which enabled the owners to have more merchandise and more space for shoppers to move around in. All a win-win for this shop, which is now frantically setting up for Valentine's Day.
Diana Kane, owner of the shop Diana Kane, which sells jewelry, apparel and lingerie,  told OTBKB that "sales were better than last year."Jewelry designed by Kane and small items like socks and gloves were big sellers this year.
"For the first time I had inexpensive impulse items like $10 bracelets. Those sold well," Kane told me.
"Everyone freaked out about the snowy weekend before Christmas but we did better in the snow than we did that weekend last year, which was terrible," Kane told me.