We went last night and thoroughly enjoyed Piper Theater's production of Shakespeare's The Tragedy of Hamlet on the green in Washington Park. I wanted to ask director John McEneny all kinds of questions about directing Hamlet in a park setting (and maybe I will get a chance to do so tonight).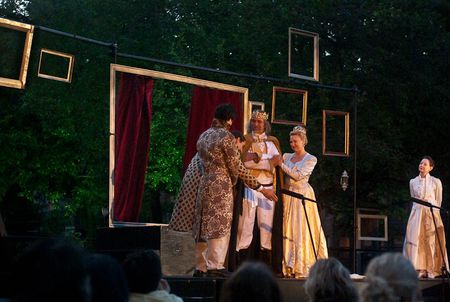 In terms of staging, McEneny did wonderful things with ladders, chairs, picture frames and a stage within a stage, that created a very physical and dynamic Hamlet that worked well al fresco with a playground nearby complete with screaming children and squeaking swings.
As always with Piper Theater, the actors were uniformly good and well directed in a skillful, naturalistic and always accessible Shakespearean style. I love that Horatio was played by a woman, the excellent Zoe Frazer. Ophelia, Laerties, Queen Gertrude and many of the others were great to watch as the daylight dimmed and the darkness of the play was able to assert itself into the night.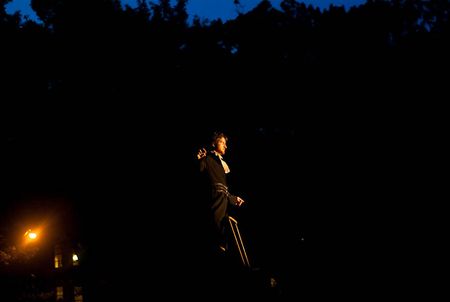 Aaron Novak as Hamlet was especially powerful during the "to be or not to be" soliloquy which he did while standing on a ladder in the middle of the green creating quite a stirring image.
Piper Theater Productions was created by John McEneny with his sister Rachel McEneny. John runs the drama program at MS 51 and the very popular summer drama program for kids ages 10-17 at the Old Stone House. In addition to Hamlet, this summer's Piper Theater productions in Park Slope include, Rosencrantz and Guildenstern are Dead, Lililth, Holes, The Boy in the Iron Mask, Peter Pan and our Town.
For a complete schedule go to theoldstonehouse.org