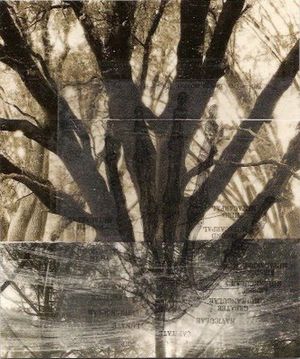 Award-winning collage artist Janine Nichols is having a trunk show at Lion in the Sun stationers
on 7th Avenue in Park Slope on Thursday evening, May 7th, from 7-9pm. This is a one night only
event.
A single mother with freelance careers as a musician, producer and promotions writer, Janine Nichols also makes art – collage – at night in her kitchen. One mid-night in 2006 she stumbled on
instructions for something called a packing tape transfer, minimum ingredients for which were clear packing
tape, water and a spoon. Before dawn, she'd found her medium: by layering transparent/translucent images
of various sources, time periods and printing methods (and working them with sandpaper, wire- and
toothbrushes), she creates depths of field that can suggest photographs taken before the invention of the
camera.
Nichols' work is narrative and non-ironic, composed of images from discarded museum and lab supply
catalogs, poetry anthologies, maps, radio schematics, etc. Prices will range from $5 to $500, encompassing
greeting cards, decorated switch plates, and unframed collage on large (8 x 10 or 11 x 14 inches) vellum and
museum board. All works on paper are offered unframed. Some of the work being offered for sale can be
seen on the artist's blog, http://jazzpaperscissors.blogspot.com.
Nichols is also the "arrestingly plaintive" (Village Voice) singer in the electric bass and voice duo
Flutterbox and, with Hal Willner, the creative force behind (and frequent performer in) a well-received
series of multi-artist concert events for Celebrate Brooklyn! exploring the music of, so far, Leonard Cohen,
Neil Young, Doc Pomus and Bill Withers. From 1985-2000, she was program director for Arts at St. Ann's,
now St. Ann's Warehouse, in its original home on Montague Street. She began her music career in the
1970s as music coordinator for the first run of Saturday Night Live.
Lion in the Sun is located at 232 7th Avenue, corner of 4th Street in Park Slope, Brooklyn.