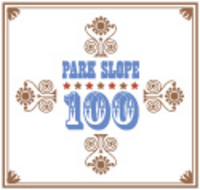 The Park Slope 100 logo, designed by Elizabeth Reagh of Good Form Design, will be included in a Logolounge book, a prestigious series of logo design books from the Master Library Series.
That sure makes me feel good for two reasons.
Reason 1: I am thrilled for Elizabeth Reagh because she deserves the recognition. Her company Good Form Design, is a small and vibrant graphic design studio in the heart of Park Slope,
Brooklyn. She ees every project as a chance to bring her parallel
backgrounds in fine art and graphic art together to produce effective
and beautiful communication. Logos, websites, invitations and branding.
Reason 2: I am thrilled because it gets the Park Slope 100 out there into the world.
The
LogoLounge books have quickly become best-selling series of design
books. It is part of LogoLounge®, a website where designers can easily
share their ideas and concepts with peers and clients. The site enables people to search through thousands of
logos created by designers and firms known and unknown. The logos are  categorized to make your search
for a logo or concept easy.