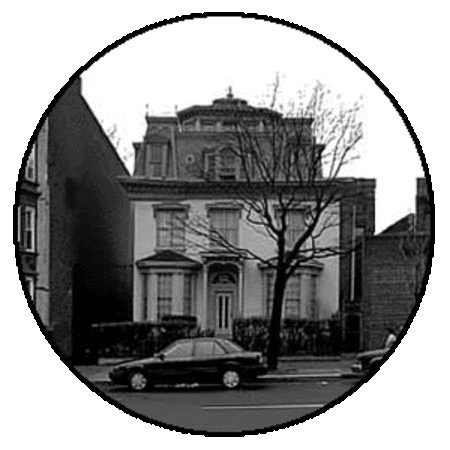 You know the house. It's on 9th Street between Fifth and Fourth Avenues and it houses something called Slope Music.
The house is bright blue and has a few flowers painted on it.
I've walked past dozens, maybe hundreds of time over the years. It aroused my curiosity. Sure, I wondered what went on in there. I guess I knew it was a Music School. But I just didn't know what to make of it.
It had kind of a cool Charles Addams vibe. I wasn't sure if it was spooky or fun.
That is, until today, when Charles Sibirsky, who programs jazz shows at the Brooklyn Buger Bar, mentioned in an email that he lives there.
I thought: he lives in THAT house. A French Second Empire house. On Ninth Street. WOW.
According to Sibirsky's website, the house was built in 1850 "before brownstones, before Prospect Park, before the Brooklyn Bridge."
Sibirsky and his wife, Vita, moved to the house in 1981 and opened Slope Music, which has a staff of a dozen teachers.
The studios at Slope Music feature Steinway Grand pianos. According to the website: "the 9-foot piano is the same model that graces the stage at Carnegie Hall. All keyboard students have the opportunity to play these fine instruments. Voice students have the thrill of being accompanied by the finest pianos in the world."
Vita teaches piano to her students in a magical room at the top of the building:
Vita's studio is the cupola at the top of the building. When the afternoon light filters through the 13 windows, one feels like they are momentarily suspended above the building. Vita tries to create a warm, welcoming space for the students. The unusual setting encourages people to relax and be open to learning. The unique space makes every lesson special.
I've never known anyone to study there. But hey, it looks like a great place to play music. Call 718-768-3804 for information or to set up an appointment if you're interested.