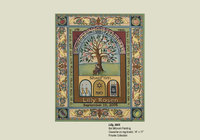 My friend, artist Lori Loebelsohn, creates painted Life Cycle portraits. They are a beautiful gift for a bar mitzvah, a wedding, a birthday or any special occasion. Her prices are very reasonable and the paintings are a lovely gift for someone special. On her website, she writes:
Life cycle events, such as births, Bar/Bat Mitzvahs, sweet sixteen's,
confirmations, weddings, and anniversaries, are the markers, the
milestones that shape and define who we are. It is at these times that
we pay attention to what we value, what we've accomplished and where we
are going.

Unlike
a traditional portrait, which shows what a person looks like at a
particular moment in time, Life Cycle Portraits tell a more detailed
story.

The interests, passions, talents, accomplishments, even the day-to-day
routines of a person can be included in a Life Cycle Portrait, a truly
multi-dimensional tapestry that expresses the essence of a person.

A Life Cycle Portrait for a family member or friend is a cherished gift.
A loving tribute, it is an opportunity to pause, reflect, and select the
most meaningful moments in that person's life.