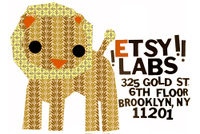 In a 7,000 square foot warehouse in downtown Brooklyn, Etsy Labs is a communal work space knitters, weavers, jewelers and silk screeners,.
Membership costs $20 dollars a month. That fee includes free materials like yarn, beads and paints for silks screening and the use of the equipment. Members also get advice from the pros who work at the lab.
Artists can also sell their wares on the Etsy Web site, a computer marketplace for handmade goods. Members sign up for a fee and get their own Web page.
Etsy Lab has free open houses on Wednesday evenings for folks who want to check it out.