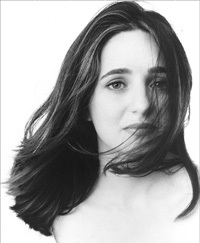 PARK SLOPE PIANIST SIMONE DINNERSTEIN WILL BE PERFORMING AT THE METROPOLITAN MUSEUM ON SUNDAY NOV. 19th AT 3 p.m.
Copland Piano Variations
Schumann Kinderszenen, Opus
15
Beethoven Sonata No. 32 in C
Minor, Opus 111
Bach—French Suite No. 5
Call 212-570-3949 for tickets.

She began her career with a
flourish by winning the Astral Artistic Services auditions in 2000; Astral then
arranged for her Philadelphia recital and concerto debuts, which the Philadelphia
Inquirer termed "remarkable." Since then she has performed at Carnegie
Hall, Lincoln Center and the National Gallery in Washington. She played works
by George Crumb and Gerald Levinson on the Kimmel Center's Fresh Ink series,
and she has performed Bach's Goldberg Variations in Texas and New Mexico
venues, as well as at Queens College in Flushing. Concerto engagements have taken
her to New Jersey and elsewhere, and chamber assignments at Bargemusic, Skaneateles,
Marlboro and Princeton have shown the range of her capabilities.
Her recording ot the Mendelssohn cello repertoire with cellist Simca Heled was
in Fanfare's Top Ten list for 2002; that magazine wrote of her Beethoven
cello sonatas with the same cellist that "they raise the music to a rare
spiritual plane." She has been praised by such pianists as Emmanuel Ax
("remarkably musicianly") and Peter Serkin, with whom she studied
at Juilliard, as "a real artist." Her many recitals have taken her
to Europe, particularly London (Wigmore Hall and the Purcell Room) and South
America. Currently she lives in New York City with her husband and son.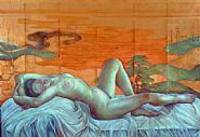 SIMONE'S DAD, PARK SLOPE PAINTER SIMON DINNERSTEIN IS HAVING AN OPEN STUDIO: THE PALETTE PAINTINGS, INCLUDING THE FIRST VIEWING OF A RECENTLY COMPLETED MAJOR WORK ON SATURDAY DECEMBER 2, 2006 AND SUNDAY DECEMBER 3: 1-7 p.m.
RSVP Simondinnerstein@aol.com