TONIGHT AT BROOKLYN READING WORKS: REGINA McBRIDE AND NANCY GRAHAM
October 20, 2005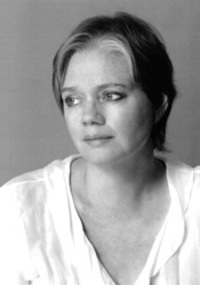 TONIGHT, Brooklyn Reading Works presents Regina McBride and Nancy Graham. The Old Stone House in JJ Byrne Park. Fifth Avenue between 3rd and 4th Streets. 8 p.m. Free. Refreshments.
Books available including Nancy Graham's homemade book of poems: "BONEFIELD JACKET" and Regina McBride's THE NATURE OF WATER AND AIR and THE MARRIAGE BED.
FROM "THE MARRIAGE BED" BY REGINA McBRIDE
Caitlin came a year later, mewing like a lamb, a soft, temperate cry. She nuzzled up to my breast within an hour of her birth. For weeks I'd lie easy with her, startled from dreams, confused as to whether she was inside or outside me, so woven together were we two. She was a pet, smaller than Miaghread had been and marbled red with turfts of fair hair and a tiny pink mouth that puckered to a star shape when she sucked. She could not get enough of the milk from my body. She loved to be in my arms, yet there was a strength to Caitlin. She had more resources in herself. It confused me, and it took me years to understand that Maighread, the one most vexed with me, needed me the most. She had nightmares and the throes of half sleep clung to me with desperation that moved me like nothing ever had, the darkness between us filled with a kind of passion.
But children gown out of love with you. Slowly their growing is a process of cleaving away. It was meant to be this way Sarah Dooley once told me. They wanted the far reaches of the day and the night.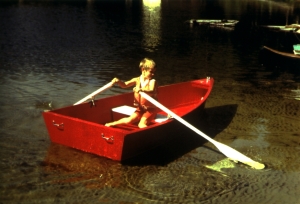 OVER TO UNCLE BOB'S ISLAND

a somniloquy by Nancy Graham
Until very recently, people
didn
Comments